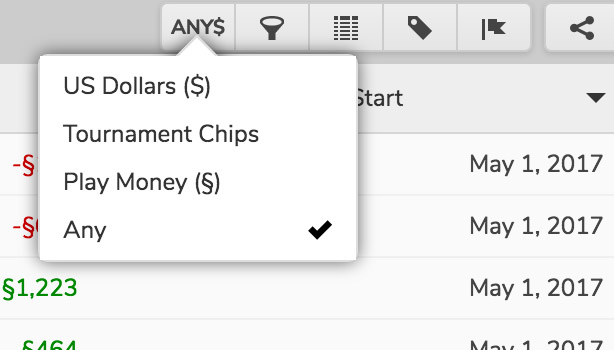 Every hand you play is either from a cash game or a tournament. In cash games, the currency can be USD, EUR or play money, among others. In tournaments, the currency is always tournament chips. Since it doesn't make sense to combine results from hands across different currencies, we've created a special filter for switching between them.
The shortcut for switching the currency of your visualization can be found in the top right of the toolbar. This same toggle can also be found in the options section of the settings panel. This currency toggle applies to tournament results as well.
An "Any Currency" option is also available if you'd like to override this filter and combine all the different currencies together. This can be seen in visualizations such as the Hand Browser which shows each hand on it's own and isn't mixing together results.