After you've downloaded and installed the Pokeit desktop application, the next step is for you to upload your hands and tournaments into your Pokeit account. The only thing you have to do is select the folders on your computer containing these hands & tournaments and Pokeit will start importing them automatically. Any new hands saved to those folders will upload as well.
This guide assumes you've already set up your poker client to save hand histories and tournaments summaries to your computer. If you haven't done that yet, go ahead and check out our Site Configuration guides.
Initial Setup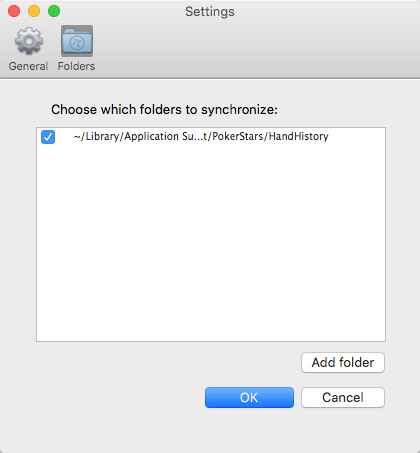 When you first log into Pokeit, the software will scan your computer for hand history folders and show a list of ones it might have found. You can uncheck any that you don't want to upload.
If you know you have some hands & tournaments saved outside the default locations, click the 'Add Folder' button to search for them. Once you're done, select 'OK'.
Managing your folders
You can sync new folders by clicking on the Pokeit icon in your system toolbar and selecting 'Add Folder'. If you'd like to remove a folder from tracking, select 'Settings' from the system menu, click on the Folders tab, un-check the folder and then select 'OK'. While removing a folder from tracking stops new hands from being added to your Pokeit database, it doesn't remove hands that have already uploaded. To remove hands from your database you'll need to request a database clearing from the Account page.
Importing your hands

After you've added your folders, the software will upload the hands into your account and begin importing them into your database. You can track the progress by logging into your Pokeit account. Your initial import can take anywhere from a few minutes to several hours depending on how many hands you've played.